Case study: Consumer Prize Campaign
TSB – Facebook
Prize

Bespoke Experience in LA

Platform

Facebook Campaign

Sector

Financial
"Working with Black Tomato was a brilliant experience from start to finish, they managed the whole process seamlessly, took the time to understand our brand values and the essence of our #ShareThePlusness campaign. [It was] a standout campaign for all of us involved and that we are all proud of, and had fun being part of." 
Social Media Campaign Director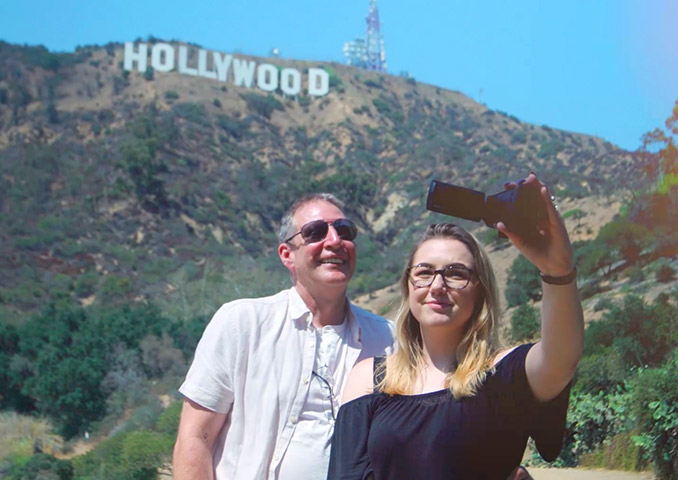 What did the client want?
TSB believes that the more you put into a partnership, the more you get out of it; and what you get out of it is what TSB call 'Plusness'. TSB has a strong heritage of rewarding people who, like them, really put a lot into their relationships, sharing 'Plusness' with people who truly deserve it. We wanted to use this opportunity to help people reward their Dads, giving them something back for everything they've put into their relationships, just in time for Father's Day. Our role was to create a completely bespoke once-in-a-lifetime experience for a deserving family, based on a written Facebook entry. The experience needed to be more than a prize. More than a trip. It needed to turn a customer into a fan and connect a brand on an emotional level to the consumer.
What made it stand out?
Today we have to offer customers more than a prize; we need to create something truly exclusive. In the case of TSB, we were challenged to build a trip that emotionally resonated with the winner based solely on their 182-word entry. And on top of that, we had to overcome the issue of creating, arranging and fulfilling the entire experience in just four weeks.
Our winning submission was multi-faceted; there was an important charity angle, a love of art and a lust for sport. We built an experience that gave the winners all these elements and so much more. We prepped every touchpoint on the trip with the background of the promotion. Hotels welcomed them as 'guests of TSB', guides were handed a copy of Harrie's emotional entry, while the LA Dodgers Coach was briefed to introduce her Dad to the team as a volunteer firefighter.
And so after managing two film crews, a fire crew, neighbours, agencies and local press for the duration of the project – all whilst keeping everything a secret from Harrie's Dad – we were as proud of the experience as she was of her father.
How did the campaign add value?
As this was the first piece of activity of its kind that TSB had ever run, the pressure to deliver was immense. All potential activity was based on the ROI delivered by the Father's Day Experience.
"When I entered the competition, I just thought it was a way of expressing how I feel about my dad. The fact that my little paragraph had won made me so proud! The trip was so special, my dad and I still talk about it. I really cannot thank TSB enough, it has brought us closer than we ever could have imagined. A truly life changing event. I'm now a lifelong fan."

Campaign Winner
#sharetheplusness